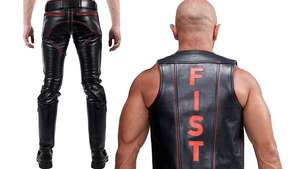 Let's dress in leather for the next fisting session
How to equip yourself with the perfect leather uniform for your fisting session?

Let me tell you.
If you're too eco-friendly or against genuine leather, I'm sorry, but this is one of the things I really like. Leather and fisting are first friends and I never think of them with division. On the contrary, I think that good old leather chaps and boots are an important part of all the rituals in which a real gay pig participates.
I don't think this is one of the fetishes I've gotten as a result of my sexual games. Rather, I remember always liking men in leather and tattoos. I can't explain this fact, but I'm sure I didn't start liking leather at some point in my life... I just always liked it. And to be honest - I love the smell of it, its sounds as a man loosens my hole with his fist.
If you are interested in where you could buy leather boots, chaps, slings and whole uniforms, here I will focus on the store where I shop and I know that it really offers high quality. I think I will be useful for those of you who have decided to equip their first dungeon. 
Mister B Amsterdam - The ultimate choice
Mister B Amsterdam is my favorite online sex shop. This is the store I use most often to order leather and sex toys and as you will see - there is a really huge variety. Many things are made especially for them, so the quality is uncompromising and you can be sure that you have a unique product.
My gift - if you decide to shop from Mister B, use the promo code you see below. Through it you will get a 5 percent discount on your order.
 MRBTQG7-BIZ0-WLEMOnline
Let's start with the boots. You can't be a real maniac if you don't have a pair of superb leather boots. I strongly recommend Steel Boots Skinhead Boots 20 hole: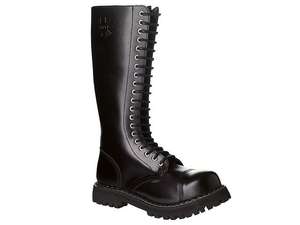 A unique product made of black leather with a rubber sole.
Great for licking by the way.
Don't forget to buy red laces for your boots. Be sure to choose the option with 20 holes - the length you will need for these black leather beauties.
We continue with the clothing.
Bottomless briefs with red stripes are an absolute must.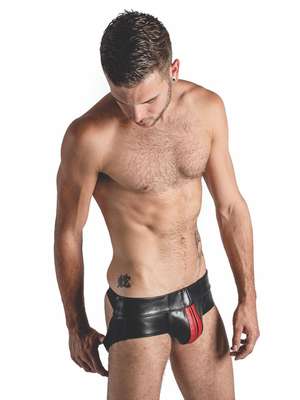 I use these leather briefs regularly and I can assure you that they are damn well made.
Of course, I combine them with a leather vest with the inscription fist.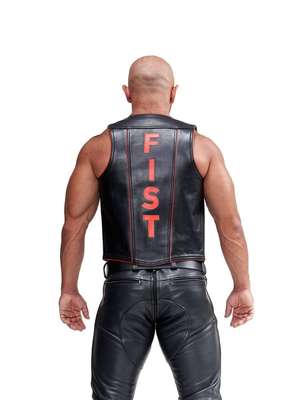 Of course, we can't miss the pants.
And these leather jeans with a red stripe and zipper are some of my favorites in Mr. B's collection.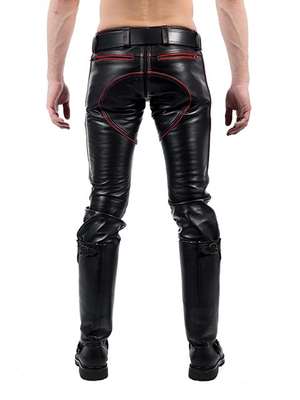 The leather biceps band in red is an accessory without which you cannot complete your style. Mister B Leather Biceps Band Black Red is my first choice.
The leather shirt is not absolutely mandatory, as well as the leather jacket, but I think they are the finish that makes your look perfect.
I have chosen the ones I own and I can assure you that I have not for a moment regretted buying them.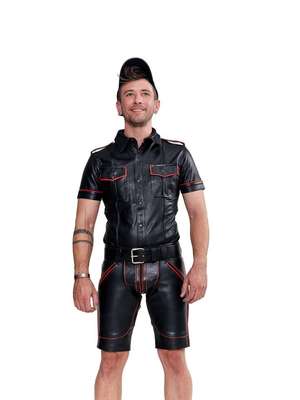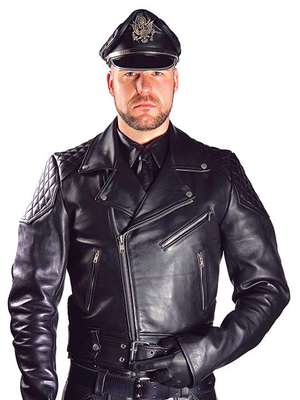 That's it. Now you're a complete leather maniac. E
njoy the feeling of power, strength and sexual charge that black matter gives you. If you have not experienced such a feeling, it is difficult to explain what changes in a person when he is dressed in leather. I will share only one thing - from the moment of dressing to the moment of undressing I feel sexy and my sexual arousal is stronger than ever.
Eventually, i
f you've decided to equip your basement, be sure to take a look at Mr. B's leather slings.