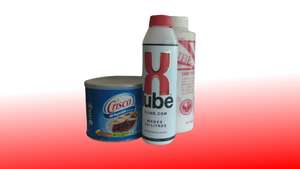 The best fisting lubricants
Let's talk about fisting lubricants. Those wonderful liquids that make anal play so much easier. I think they create half of the magic and I can't imagine people living without them.
Unfortunately, when it comes to fisting, the choice is not so great.
I have tried almost everything on the market and I can guarantee you that the most useless are pre-prepared lubricants. There are different varieties, but if you see a product in a package resembling a face or hand cream, just forget it. THEY ARE NOT QUALITY! I will not mention brands. But I will definitely mention what I use almost every day.
Crisco is incompatible with condoms and rubber gloves, but is an integral part of fisting. This fat, used for cooking, is still extremely popular among fans of fist sex. I wouldn't call it slippery, but Crisco makes the skin soft and supple. I use Crisco by inserting a certain amount into my hole, as well as to rub my anus. Once I'm relaxed and the fat starts melting, I continue with the next lubricant.
In the past, I only used J-Lube, which is the most slippery thing I've ever seen. Great fisting lubricant. Well, mixing it was not fun because there were always undissolved particles in the water. The real problem for me was, this thing couldn't be cleaned. Sometimes it took me days to deal with all these sticky transparent spots on my body. Unless you have something else, J-Lube is still your best friend, but I would recommend his brother - X Lube.
X Lube is a very easy to use lubricant. It comes in powder form, just like Jay, but is made with the idea of ​​being easy to use. 33.81 fl oz (1 liter) and 4 caps of powder are enough to make a sufficient amount of lubricant. Pour the powder into a bottle full of water and shake it. Shake again after 10 minutes and your lubricant is ready. After the session, you will notice that it is dramatically easier to clean, which is its biggest plus.
Unfortunately, X Lube is offered by a small European manufacturer and sometimes the product is extremely difficult to find. Once again, in this case, J-Lube is still your best friend.
If you have questions or want to share what product you use, please comment.