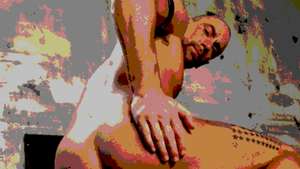 Although very little is known about fisting, as it is considered a product of modern society, it has its own history, traceable over the years. I've been looking for a lot of information on whether there is any historical data on the subject, but the data seems to be too scarce and the history based on it is false.
For example, I came across a post claiming that Michelangelo's drawing in the Sistine Chapel included a man taking another man's fist. Of course, such an image exists, but it is obvious that it has nothing to do with fisting.
A friend of mine, a historian, told me that I should not look for the ancient history of fisting, because according to him it is a sexual game that is impossible without the modern achievements of mankind such as running water. In fact, that was the best argument I've ever heard. After all, deep ass play requires serious cleaning, which has been impossible in the past. So, at least for me, the history of fisting really started after the middle of the 20th century.
When and where?
Of course, it all started in good old America somewhere in the 1960s.
I can't imagine who discovered Crisco's additional capabilities, but it's a fact that thanks to this fat, the gay community has become different.
In this period, first fisting clubs appeared in America - The Catacombs and Handball Express were the most famous clubs.
After the advent of HIV, many same-sex sexual practices were discontinued - people were afraid and preferred to avoid the risks.
You can imagine how they felt, especially against the backdrop of the unprecedented pandemic we are witnessing.
In the mid-90s, fisting became popular again.
Falcon studios started shooting movies that include fisting scenes, which made things hot.
During this period, the Internet entered our world and that was the real information revolution.
I remember watching one of these movies a little later and being inspired by the opportunity to take a fist in my ass. Then I created my first blog, which contained the "amazing" archive of 50 MB of photos. Don't laugh, 50 MB was a huge collection at the time.
Of course, then the fisting parties started, hundreds of specialized sites appeared and every bored man could find an activity he liked. From those years I remember that my idols were Matthieu Paris and Matthias Von Fistenberg. I couldn't wait to buy each of their movies. In fact, I still consider them both the main inspirers of the modern gay fisting society.
I will be more than happy if you write me your personal story.
It will be interesting to compare our observations.