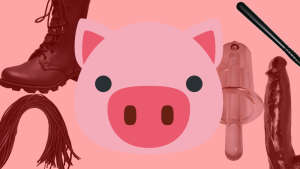 The sadist who turned me into a real gay pig… Or my rapid transformation into a BDSM slave
I found him on Grinder. There was a picture of him in his profile - he was wearing a leather uniform. His nickname - BDSM Master. I will not hide that I was most impressed by the description of his profile - a dominant man who fucks roughly and knows how to cause pain. I wasn't that type of man, or at least I didn't think I was, but something made me write to him. I wrote him that I wanted to be dominated, possibly fisting, but without unnecessary rudeness. I added that it would be interesting for me to just show me how to play harder. 
He turned out to be a gigolo. I've never been with a gigolo, but the thought of it turned me on and I decided to give him a try. 10 minutes after I wrote to him, he told me that for $ 500 I could be with him for 3 hours, and for $ 1,000, I would be his property all night. I chose the second option and I am not sorry. I was about to realize that this would be the best $ 1,000 spent in my life. 
We exchanged contacts and I sent him my address. He wrote that he would bring some toys. I was worried and excited. I looked at my watch - it was 10 p.m. I sat and waited, wondering what a man nicknamed BDSM Master would do to me. I imagined rough fucking and fisting, nothing more. 
Shortly before midnight, he wrote me that he was at the address. I opened the door and saw him. He was a man in his late 40s with a very nice body and a look that showed that this man really liked rough games. He had a hell of a perverted look indeed. He visually reminded me of an Italian. To be completely specific, he looked a lot like Ale Tedesco. A sexy daddy with a tight body and high self-confidence, who knew what he wanted and how to get it. 
I brought him a glass of vodka and we started talking. He explained to me that he had been married and had a child, but had recently divorced because from the years he had been a soldier to the present day, he had always fucked men. Women are frigid, he added. The men tend to do things that no woman would do, he said and smiled mysteriously. Unfortunately, he was absolutely right. I didn't even know I was going to do the things I did that night. But this man turned me into an anal whore, a real gay pig and I will never be able to enjoy ordinary sex again. Sad and so exciting. 
Hours after his visit, I felt like a nasty bitch who was born to be satisfied in the nastiest way possible. I no longer wanted kisses and just a fist or cock in the ass. I felt used and raped and that feeling made me feel perfect. I wanted to be brutally abused every time I had sex. 
But let me go back to the visit of the hard master. The master carried a huge bag with him. He unzipped it and showed me the things he was going to use with me that night. The first thing was a giant anal plug. He put it on the table and told me to sit on it. Even before I said that the dildo was too big, he had already put his hands on my shoulders and was pushing me down. My anus was about to rupture, but he didn't care. When I thought this was the end, the toy sank deep inside me. Then he said to me: 
Bitch, this plug will be in your ass for at least 1 hour to make sure your hole is destroyed and ready to use. I spent maybe more than 2 hours with the anal plug. It was a painful experience at first, but in the end, my anal ring had become so wide that I didn't even feel the plug slide out of my wrecked anus. While I was dumbfounded, the master did a lot of nasty things to me. Things that will already be part of my sex games, because obviously, I've always wanted them. 
In fact, this is exactly what my master told me - after calling me, you are ready for your transformation into nothingness, into an object of master's amusement. He was absolutely right. I remember very well when he pushed me to the floor and made me open my mouth wide. I thought he just wanted a blowjob, but he pulled out his giant cock and started pissing in my mouth. I hadn't drunk piss but the taste was nice. I began to swallow with unquenchable desire. He peed in my mouth for a few minutes. And I swallowed the yellow liquid as if I were drinking lemonade. It turned out that drinking piss is a very good thing. At least for me, it was something new, but a day later I'm ready to drink gallons of hot piss and it makes me feel aroused. 
The plug was still in my ass. The master didn't want to take it out yet, and he had obviously prepared something else for me. He dug into his sack again and pulled out a police baton. He told me: Do you know that there is lead in this baton - it is heavy and every hit with it causes pain. The only thing I was able to say was that I was not sure that I wanted such a device to be tested on me. It didn't matter. 
The master grabbed the baton and started beating my ass. God, it hurt. It was an agonizing pain, a terrible, severe pain, but I was unable to tell him to stop. I didn't want him to stop. He beat me for 10 minutes. Hours later, my ass is still red and I'm having a hard time sitting on it, but I can't wait to feel the police baton again. Inexplicably, I had become a masochist. Yes, I want to be beaten. The agonizing pain is my latest discovery on my way to exploring my perverted sexuality. 
After having fun with the police baton, the master said he wanted to piss again. He told me to get on my knees and drink every drop of his piss. For the second time, I found myself in the role of a human urinal and I must admit - I felt dirtier than the dirtiest toilet bowl. I liked being a big, crazy slut. Even right now, as I write this, I realize that piss has become my latest sexual fetish. I feel disgusted and nasty - I still like the memory of that feeling. 
Then the master made me lick his boots, and then let me lick his feet. God, those feet smelled. I couldn't believe I liked this smell, but I adored it. I kept licking, really enjoying his sweaty armpits. Then I kissed his neck, hoping we would kiss me at least once. I reached his mouth, but instead of kissing me, he spat into my mouth. In fact, he was spitting at me all the time. To him, I was like nothing, an object without human nature. 
It had been 2 hours. 2 hours in which I was transformed into his property - he controlled my body and soul.
The master said it was time to pull the plug. I just pushed hard and fired it like a projectile. I felt that my anus was different. I touched it - it had turned into a wet hole and I could put my whole fist in without any effort. The dildo had opened me as wide as never before. I've always liked fisting and big dildos, but I've never been so open. After that, the master brutally punched me. Completely ruthless. He just stuck his elbow in me. Strong and aggressive, he penetrated deeply and I did not want him to stop. 
I don't know how long the penetration lasted, but at one point my master told me to relax to take on his biceps. I've never had a biceps deep fisting before and I didn't expect to be able to do it. But the truth is, the master's whole hand was in my gut. I could feel his wrist inside me and I swear, it was inches from my throat. Then, the master abruptly pulled his hand out. I felt my hole differently. I didn't even realize that he had pulled my entire rectum out. I touched it and felt it - my little rosebud had turned into a giant prolapse. 
I tried to push it inside, but it was impossible. Then the master reached into his bag again and pulled out a monstrous dildo. He slid it through the prolapse and plugged me again. I was confused and shocked. Prolapse was a huge taboo for me, and the feeling that I had a prolapse scared me in an intriguing, arousing way. I was plugged again and the master decided it was time to punish my nipples. My friends played with my nipples many times, but that really hadn't happened to me. 
He stepped on my chest with his boots and began to squeeze it. Then he squeezed my nipples with his fingers and began to pull and twist them. It hurt so bad. I couldn't even believe that instead of telling him to stop, I sat speechlessly and wanted more agonizing pain. I swear, he was the devil he had taken my soul. I was capable of anything and I never wanted it to end. 
More than 4 hours had passed. We started before midnight and the clock showed 4 in the morning. I suggested to the master that we need to finish, but he said that a whole night meant a whole night, kicked me in the balls, and told me that I did not have the necessary rights to decide when things would end. 
I had forgotten that I was plugged with a giant dildo when the master pulled it out and put his two fists in me. Then he pulled them out, and I felt my prolapse slip out of the broken anal ring again. I saw that the master was preparing to fuck me because he had grabbed his cock in his hand. I couldn't even tell him to put on a condom. He stuck his hard, bare cock in my prolapse and started using it as a masturbator. I must admit it was a pleasant feeling. Extreme, but very cool. The master fucked me for more than an hour until he finally cummed in my gut. I felt the warm semen that flooded my ruined hole. I thought it was the end of the night, but the master stood behind me and began to suck my prolapse. He then approached me and spat a mixture of semen and anal juices into my mouth. It was so disgusting and so sexually arousing at the same time. 
6 in the morning. For more than 6 hours we had not stopped for a moment. I thought this brutal adventure would end, but the master denied me again. He pulled out an anal vacuum pump and pumped my prolapse. He pumped over and over until the vacuum pump was filled by my gut. Then he pissed in my mouth again before putting on a leather jumpsuit. He made me lick literally every part of his boots and jumpsuit. I did this several times because he was still not happy with the result. I won't mention that it's not easy to concentrate on licking when a huge pump has sucked half of my gut. 
8 in the morning. The master pushed me and I fell to my knees. He started slamming my mouth brutally and I didn't even understand how I managed to take his big cock in my throat. All I could feel was his balls touching my lips, which meant I had taken the whole cock. Unbelievable. Without even asking me, the master cummed in my mouth and made me smear my whole face with his semen. Then he licked it from my face and put it back in my mouth with a powerful spit. He made me swallow it. 
Finally, he pulled out the vacuum pump, packed his bags, and left without even saying goodbye. I lay on the floor for hours. I couldn't imagine that in 9 hours I had become a disgusting gay pig. My whole body hurt. I felt the hits of the police baton on my ass. I could feel the brutal fucking in my face. My nipples were as painful as never before. My brutally pumped prolapse didn't want to go back into my gaping hole. 
I don't know what happened to me, but it was disgusting in the sexiest sense of the word. But the change is lasting. I am already an anal bitch who was born to serve his master. I do not have my own will and desires - I live to satisfy my master. I can't wait to meet him again. He changed my body and mind as no one has before.